Eddy Spaghetti Amsterdam
Lieve mensen,
Zoals u ondertussen wel zal weten is besloten om in de strijd tegen het Covid-19 virus ook alle horeca in Nederland voor onbepaalde tijd te sluiten. Hoe hard dit ook aankomt staan ook wij volledig achter dit besluit.
We hopen dat we door met z'n allen onze schouders eronder te zetten en ons te houden aan de voorschriften van het RIVM deze tegenslag zo snel en veilig mogelijk weten te tackelen en u zo snel mogelijk weer te kunnen ontvangen in ons restaurant.
De komende tijd kan er nog wel besteld worden via de app van Deliveroo en Ubereats (binnenkort ook Thuisbezorgd) of kan er eten afgehaald worden in het restaurant (alleen pinbetalingen). Voor afhalen kunt u bestellen via 020-3709388.
Stay healthy!
Team Eddy
Dear people,
As you probaply all know by now in the battle against the Covid-19 virus the government decided to close down the hospitality branch for indefinite duration.We fully support this decision. We hope that with the support of everybody and by following the regulations of the RIVM we'll manage to overcome this setback as soon and safe as possible.
For now you can still order our pasta's and pizza's online through Deliveroo and Ubereats (soon Thuisbezorgd as well) or you can order to take out at our restaurant by calling +3120-3709388 (pay by cards only).
Stay healthy!
Team Eddy
*
Eddy Spaghetti is a cozy Italian diner in the eastern part of town.
Hope to see you soon for a steaming plate of pasta, one of our thin crust pizza's or just some drinks and antipasti.
Openingstijden
Eddy is open 7 days a week from 17:00 o'clock.
We also offer giftcards! You can decide for yourself with which amount you would like to make someone happy. You can pick up your giftcard at the bar!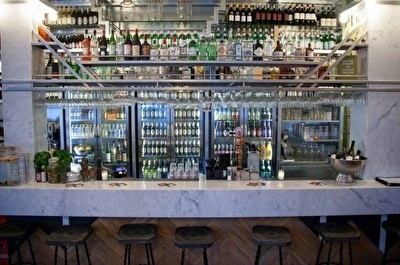 Party?
Wanna make a reservation? Send us an e-mail or just give us a call on +31 203709388. We're reachable by phone on Mondays till Fridays from 09.00h and in the weekends from 14.00h. Eddy is also available for larger groups.